Activities and Achievements
Disaster management film screening: Break out event, 25/07/19
| | |
| --- | --- |
| Talk on 'building resilience to natural hazards through the development of socially and environmentally just policies' and disaster management film screening were conducted in the college. | |
---
Mangrove day Celebration -26/07/2019
As part of world wetland day students conducted an exhibition by presenting posters and displayed the important species of mangrove sampling. Planted mangrove sapling in Nettor region followed by this programme.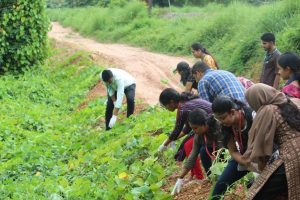 ---
Field study: Mangrove Ecosystem at Nettoor, 26/08/2019
2nd year Msc EVS students conducted a field visit at Nettoor mangrove ecosystem to study the importance of the ecosystem, species diversity, water and sediment quality and major threats faced, and provided the solution for its conservation.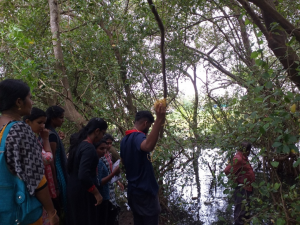 ---
Field study: Freshwater Ecosystem, Periyar River , 29/8/19 and 30/8/19
Ist Semester students conducted a Freshwater Ecosystem study in the lower reaches of Periyar River. The study analysed the water and sediment quality and biodiversity status.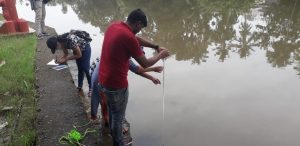 ---
Wetland awareness programme at Nettoor and video presentation, 3/09/19
In view of the importance of conservation of wetlands, an awareness campaign organised at Nettoor. The official launching of the documentary on 'Wetlands and Mangroves around Kochi' conceived by Centre for Environmental Science was also launched during this programme. (https://youtu.be/5y5jpIYDNNQ).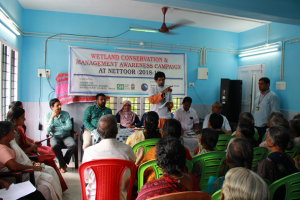 ---
Wetland awareness classes and screening of documentary on wetlands- 1.10.19 to 30.11.19
As a part of an awareness project on 'Wetland Conservation Awareness and Management', 2018-19, a series of awareness classes and screening of documentary on wetlands was conducted at Cochin College, St. Theresa's College, Sacred Heart Public School, Elamkunnapuzha Panchayat, Kumbalam Panchayat and Sacred Heart College.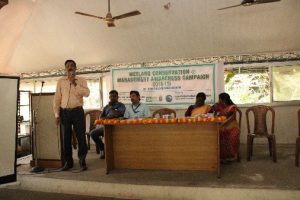 ---
Conducted a talk on "Wetland conservation and management with respect to Kerala", 22/11/19
Conducted a talk on "Wetland Conservation and Management with respect to Kerala" by Dr. Harikumar, CWRDM, Kozhikod.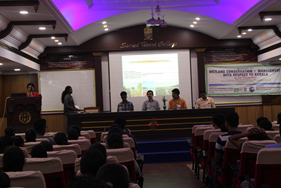 ---
Presentation in Community Interaction Programme, 20/12/19
Linta Devasia, IInd PG student, presented the collected data using Secchi Disc- a simple handheld device to measure turbidity level of water, in the 'Community Interaction Programme' held at CMFRI, Kochi.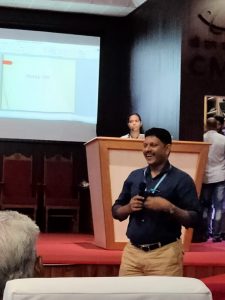 ---
Environmental impact Study at Flat Demolition site, Maradu, Kochi. (14/01/20)
Students assessed the environmental impact of the demolition of waterfront apartment complexes in Kochi. Collected water and sediment samples from the backwater, Vembanad Lake, which is very close to the apartment, for further detailed analysis.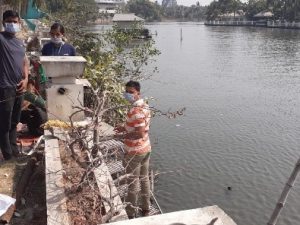 ---
Wetlands day celebration, 02/02/2020
Students and faculties of the department celebrated World Wetlands day by cleaning Vembanadu Lake.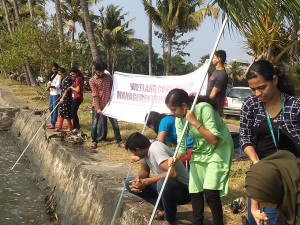 ---
Seminar on Corona Virus, 25/02/20
A seminar on Corona Virus was organised in the college to share epidemiological insights into the evolving COVID-19 outbreak in China, with a view to prepare the rest of the world for potential further spread.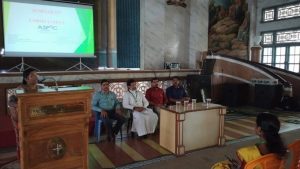 ---
Placements
We are glad to report that 70% of our students got placed and others are continuing with their academic activities. See detailed report here.